There are a couple different ways to place an order depending on what you need. On this page we explain how to place an order. First you have to choose left or right:
Placing an order manually
The webshop is made for everyone who want to place orders quickly and don't mind to do this manually. The webshop has an online design program which you can use to make your design without Photoshop. This is very easy and can be done by everyone. All our products and shipping options are listed in the webshop.
Create an account
If you want to place an order in our webshop, you need an account. This account is not the same as the account for the Dashboard. Create your account here. Enter your email address and you are ready to order.
Find your product
Use the filters on the left side of the screen or use the categories to find the product you need. Can't find the right product? We offer more variations for popular models and less for less popular models. All our cases are in the shop, so if it's not there we don't sell it right now.
If you found the product you need, click the Customize button and the product designer will load.
Make a design
You can use the 'Upload your design' button to add your own photo, logo or design. It will automatically be added to the product.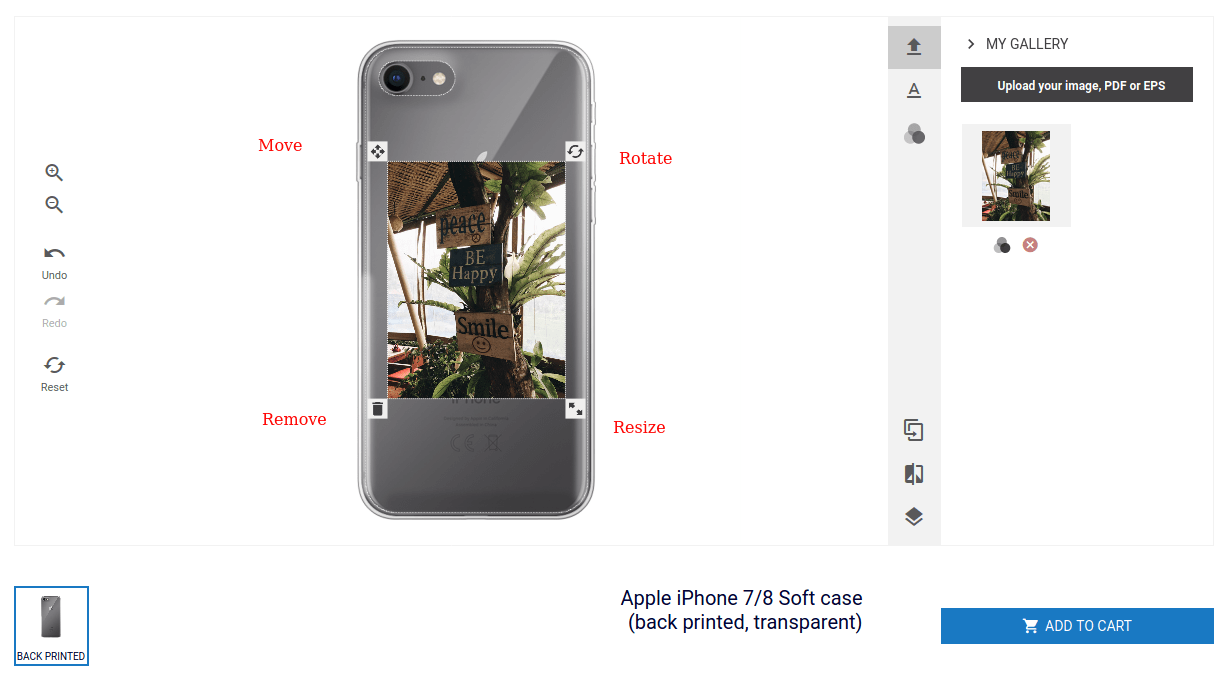 When the picture is placed on the product you see a square around the picture with on each corner a handle. Each handle has it's own function. The functions of the handles are in the image above. For example, click and drag the handle on the right bottom corner of the image and your image will get larger or smaller.
When the design is finished, click 'Add to cart' to save the design and go to the cart.
Add your customers details
If everything in your cart is okay, click 'Proceed to checkout'. Here you can decide if you want to receive the product yourself or want to ship it directly to your customer. We ship everything white label, that means that there is no logo's or company details on the envelope. You can use this service for drop shipping. When you want to send it directly to your customer, you only have to check 'Deliver to a different address' and enter the address of your customer.
Place the order
Last thing to do is to select which Shipping method you would like, select the payment method and place the order. Your order will be processed the same day on work days before 16:00 CEST, when the order arrives after that it will be processed and shipped the next work day. You will receive an email when the order is shipped.
Placing an order automatically
When you want to place orders automatically, some setup has to be done. How this works, depends on your webshop system. Some basic technical knowledge is needed to set up automatic ordering. Contact your system administrator if you're not sure how to do this. Of course we can guide you through the process if you have any questions. Please note! We only guide existing webshops to automatic ordering. If you're just starting and don't have any sales yet, please start with manual ordering.